Abhinav Chokhavatia
Founder and CEO: Zatun
Abhinav Chokhavatia was conferred with the "Star Youth Achiever" Award at Global Youth and Marketing Forum 2012 by Star News.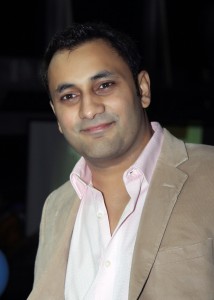 He has 10+ years of experience in the video game industry and more than 12+ years of experience in the 3D Industry.
He established Zatun, a bleeding edge, innovative, engaging, smart phone and cross-platform video game studio. Zatun offers game art outsourcing on all platforms including smart phones, tablets, desktops, handhelds and consoles and game development for iOS and Android.
Since 2007, Abhinav and his team at Zatun have developed award winning successful games and created game-art that delivered eye balls, click-throughs and the marketing results that the clients pay for. Under his leadership, Zatun delivers benefits – the kind of benefits that companies and game developers want in a partner.
Specialties:
Game development experience
Client and service provider relationships
Game production
Business development
Team creation
Team management
Project management
Company branding
Game marketing
Game art outsourcing
Game legalities
Powerful networking skills
He is also the Executive Producer on all games developed by Zatun and was responsible for bringing his vision and concept for the game "The Legend of Vraz" to life. The Legend of Vraz has been critically acclaimed and has received rave reviews worldwide by game magazines and video game sites for its stylized look and gameplay. It was awarded the best PC game Award at FICCI Frames BAF Awards earlier in 2010.
In 2011, Zatun's iPhone game "I Luv Chocolat" was nominated for NDTV Tech Awards.
For all games developed by Zatun, Abhinav oversees all tasks ranging from game idea, game concept, management, and gameplay, art direction to programming, QA, finance, game legalities and digital distribution.
He has previously worked for Ubisoft, Montreal on titles like Far cry: Instincts for XBox 360, Prince of Persia: The Two Thrones for PS2, Splinter Cell: Double Agent for PS2, Rainbow Six: Lock-down for XBox and Rainbow Six: Vegas for Xbox 360. He has also done freelance for EA Vancouver and other various graphic and video-game companies worldwide.
He graduated from the Vancouver Film School in 2002 and has a Bachelor's in Computer Applications, Diploma in French, Diploma in IT and an Advanced Diploma in Multimedia.